A multimedia company that creates, develops, produces and distributes original content based on the Cuban experience
Tropix produces content for television, radio, cinema and web markets with the aim of generating proprietary audiovisual content. Tropix also sponsors, develops and/or co-produces important events and cultural or entertainment-related shows throughout Cuba.
[rev_slider alias="capitolio2"]
Did you know…
The Capitol Building, commissioned by President Gerardo Machado, built from 1926 to 1929, marks the geographic center of Havana with a 25-carat diamond embedded directly below the center of its dome. The diamond (said to belong to Tsar Nicholas II) dissects both the Hall of the Lost Steps-so named for its acoustic properties-and the semicircular chambers that formerly housed the Parliament and Chamber of Deputies. The diamond was stolen in March of '46 to be mysteriously returned shortly thereafter.
Trust. Loyalty. Integrity. Family. Excellence. Respect. Passion. Creativity.
El Capitolio, or the National Capitol Building is a public edifice and one of the most visited sites in Havana, capital of Cuba. The building was commissioned by Cuban president Gerardo Machado and built from 1926 to 1929 under the direction of Eugenio Rayneri Piedra.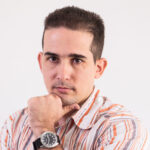 [rev_slider alias="production"]
Cubaness is an online platform providing a curated guide complete with restaurants, theaters, nightlife, concerts and beyond. It fills an information gap for locals and travelers to the island, delivered as a video magazine with a sophisticated aesthetic and insightful content. 
Tropix Films is about taking everything we love about Cuba, and telling the best story possible. We act as both an incubator for new TV and Film projects as well as collaborative partners on existing international productions.
Our mission is simple. Seek out the best projects, the best partners, and the best distribution to help amplify the Cuban experience. Our advantage is the deep history of archives to draw upon.
Mario L Baeza is the Founder of Tropix Media & Entertainment, a company whose Mission is "to bring Cuba to the world and the world to Cuba." Following a pioneering 20-year career as an associate and then partner in the international law firm of Debevoise & Plimpton, Mario went on to become Vice Chairman and President of a major international investment bank an … See More